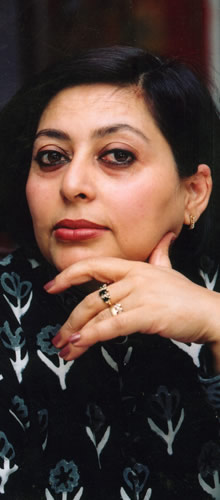 Shelly Jyoti is a visual artist, fashion designer, poet and an independent curator whose work references in the cultural context of Indian history. She is trained as a fashion designer from National Institute of Fashion Technology, New Delhi, and she earned her MA in English Literature from Punjab University, Chandigarh.
Recent shows include: Salt:The Great March-(Solo show)Azad Bhavan Gallery, Indian Council of Cultural RelationICCR, New Delhi (2015); The Heritage Museum DakshinaChitra, Chennai(2014); India International Centre IIC, New Delhi (2014);Indira Gandhi National Centre for the Arts ,New Delhi (2013-14);  Indigo: New works by Shelly Jyoti & Laura Kina–Gandhi Memorial Centre, Washington DC USA (Nov 2013-14); Chicago Cultural Centre Chicago IL, USA (2013); Diana Lowenstein Gallery Miami FL, USA (2011); ArtXchange Gallery Seattle WA, USA (2011); Nehru Centre, Worli, Mumbai (2010); Palm Court Gallery, India Habitat Centre New Delhi (2009); ABS RedEarth Art Gallery Baroda (2009);."Women Imaging Women: The study of female portraiture"–The State Street Gallery Robert Morris University Chicago, USA (2009); "Beyond Mithila: Exploring the Decorative"– Woman Made Gallery, Chicago, USA (2008); Jamaat Art Gallery, Mumbai (2008); India Habitat Centre, New Delhi (2008/2009); and "Lyrical Abstraction: A Room of/for Muses"–Experimental Art Gallery – India Habitat Centre, New Delhi (2007); WelcomArt Gallery Baroda,Gujarat (2009).
Her work is included in corporate and private collections in India and abroad, including the TAPI collection (Textiles & Art of the People of India) in Surat, India, IGNCA (Indira Gandhi National Centre for Arts) New Delhi and with International Lincoln Centre, Louisana State University , Shreveport as their permanent collection. Her recent curatorial project "Traditional Indian Textiles" is a travelling exhibition of Indian Council of Cultural Relations (ICCR) for ASEAN countries.She has authored the catalog publication for the same .
She was selected  amongst 30 eminent women painters in Delhi by the Sahitya kala Parishad in 2013. She has been awarded support from the Indira Gandhi National Centre of Arts (IGNCA), Indian Council of cultural Relations (ICCR) and the Gujarat Lalit Kala Akademi for art and curatorial projects.
Jyoti has been a juror, given talks, conducted workshops in art and fashion schools in India and abroad. Her works have been reviewed in Art India, ArtEtc., Business Standard, Financial Times, The Quilters UK, Indian Express Mumbai, India Today, The Hindustan Times, and Times of India. Her literary works are in collection with the Sahitya Akademi journal of Indian English literature.
She lives and works in Gurgaon and  New Delhi, India
Follow shelly jyoti at Academia.edu